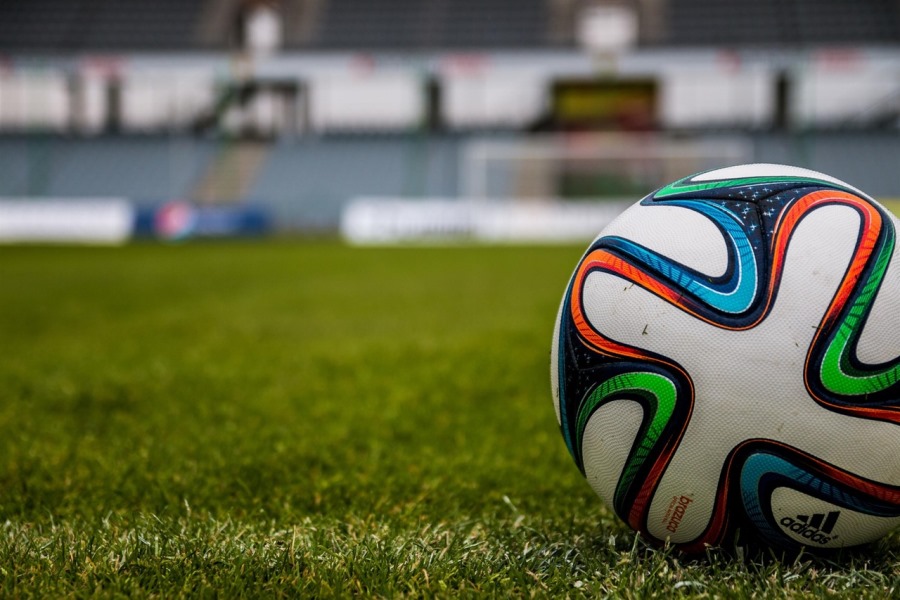 After 31 days and 51 matches, Portugal has been the squad who won glory and the hard-fought European championship. Accompanied by thousands of fans at the stadiums and millions more around the globe, viral video campaigns, world trending topics and sounded memes the main event of 2016's summer is over. Parallel, unexpected brands won the battle in the internet, getting more notoriety than their competitors and standing out the crowd with their eye-catching online actions.
Still excited of the exciting finale of the UEFA Euro 2016, it is time to take stock of the fierce competition, both in the grass and the Internet, and determine which brands and retailers have been the Iceland and Wales squads of the tournament, which ones have fulfilled the expectations, like Portugal and France, and which ones have failed in their strategy resoundingly, like Spain or England.

Lessons learned
The privileged 16 sponsors of the UEFA Euro 2016, just by being so, had the advantage over those brands that were not under the official tournament trail. My eyes were especially looking out the 10 international brands ready to conquer the digital and global landscape: Coca Cola, adidas, Hyundai, McDonalds, Carlsberg, Continental, Orange, Turkish Airlines, SOCAR and Hisense. However, against the odds, Nike, surprised everyone, anticipating to their counterparts with a video ad called "The Switch" launched the week of the opening game starring Cristiano Ronaldo going viral with 65 million views in only one week, according to Visible Measures. It was simply a master move.
On the other hand, although McDonalds' program "Player Escort" was a great idea in which digital skills and social spirit were involved, I personally think that the American fast food chain was not specially brilliant with the name chosen for its campaign, targeted to youngsters who could apply through videos or photos for walking out their football heroes and being part of major fixtures in France such us the final.
Sales or conversion figures have not been disclosed yet but we can see what the trend is and measure somehow its effects. It has been proven that playing smartly in the digital landscape is becoming more and more relevant in order to promote your business, to position your brand or to launch a new product or service. An action taken in the perfect moment can bring a great resonance to your brand and increase considerably the brand awareness and even loyalty. At the end of the day, those emotional stories that walk in the target's shoes (the fans), can remain in consumers' hearts forever.
In order to do so, it is essential to rely on a highly professional team like our online marketing experts. If you want to redefine your strategy, can't decide on the right equipment, or build your own professional line-up to successfully outpace your competition, feel free to contact us 🙂
Otto.de took the most of multi-channel
In the last years, the TV has been the spoilt and one and only guest of the party of football. However, the TV has now to share the honor seats with other technologies such as tablets and smartphones, what has caused that especially young fans (18-34 years old) are connected parallel to two screens while watching football games. Precisely, 61 percent of digital natives do so.
According to a survey made by the market research company YouGov, during German matches, 30% of fans, who are supposed to cheer their team up, are surfing in Internet at the same time and, what is more significance, 17% of them have completed a purchase during the live broadcasting.
This evolution in the purchase behavior has been well seen by otto.de who has taken advantage of its intense online campaign over TVs obtaining impressive results: the German marketplace has achieved a 110% increase in sales in comparison with the same period last year. Once again, the peak was achieved during the German matches, as you can see below.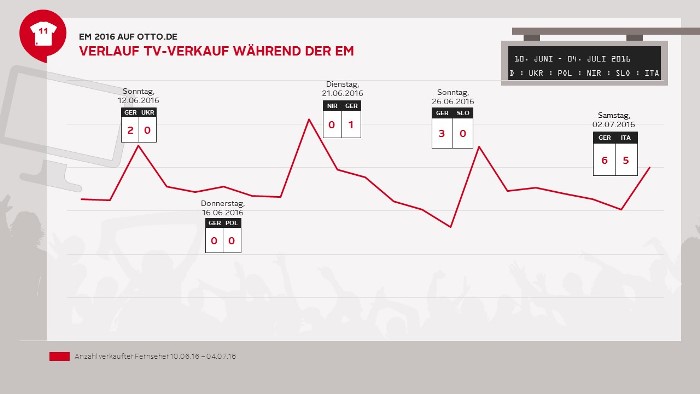 In this sense, it is clear that in order to succeed with your marketing campaigns during a huge sport event like the UEFA Eurocup, it is important for marketers to be aware of the short reaction time with which they play. Good planning regarding peak traffic, for example, can save brands from making the fools of themselves. Furthermore, to coordinate your supply chain and to examine the availability of a wide range of goods and make the delivery process more efficient while Germany is playing against Italy are key points nowadays to score the winning goal.
For example: To offer a same-day-delivery service within Germany in which the fulfillment process takes only 5 hours, like otto.de did, make you start from an advanced position.
When success is a surprise
Talking about success, sometimes it comes when you least expect it. This UEFA Eurocup has assisted to the Iceland's footballing revolution. The team qualified surprisingly for quarterfinal after beating England in a historic match. The 99,8 percent of the Iceland's population, with lack of football tradition, watched on TV this epic achievement and, consequently, the demand on Icelands' shirts increased almost 2000 percent over what was predicted by the manufacturer Errea. The Italian shirt manufacturer was struggling to supply orders from all Europe, especially from Scotland, because they were literally sold out.
Other memorable but critical moment for one brand took place during the match between Switzerland and France. Can you recall? Several Swiss jerseys from PUMA were ripped like they were pieces of papers. Outraged fans manifested their feelings massively in social media channels. In Germany, the hashtag #Trikotgate became trending topic and the German based firm was forced to react against this scandal.
At the end, brands were inspiring but the high level of connectivity, shareability and networking, these enormous events generate into the general public, made a difference. The digital landscape is full of opportunities but a mistake can be very costly. Brands should not underestimate the power of social media and the individual's desire of participation. Congratulations to the new European football kings, Portugal! I hope you enjoyed the magic of football and the challenge of delivering brands into the football lovers and their accompanying – let's look forward to 2018's world championship 🙂