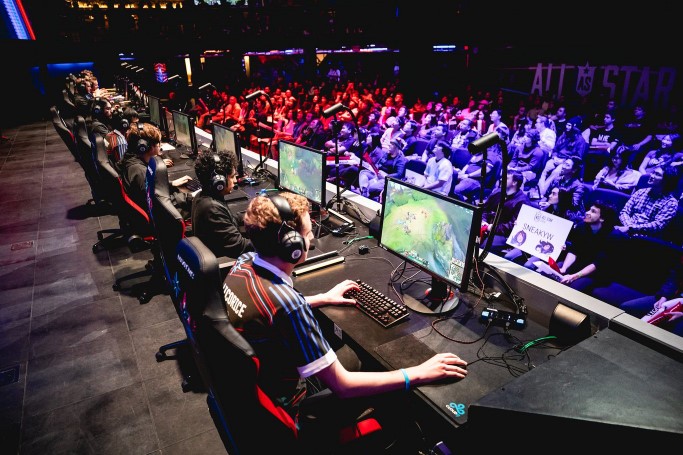 Digitisation is not a megatrend anymore, it has become normality nowadays. It determines both our private and professional daily life. In particular how people spend their free time has changed enormously in the course of digital change in recent years. The best example is the way sport is done nowadays. Thanks to digitally connected devices, more and more people train more specifically and more consciously. This way, they can constantly check their vital signs and their fitness level.
But not only that. The way in which classic sports are consumed has also changed significantly. Furthermore, the improvement of network connections as well as the increasing popularity of smartphones have contributed to completely new sports being created, for example League of Legends (LoL).
The progress of technology has already turned well-known gaming competitions into huge global events and thus ultimately brought e-sports into our daily lives. The number of spectators in e-sports is rising. The corresponding turnover and the number of companies that make investments is increasing as well. The most recent example is Bayern Munich. Together with its partners Telekom, Allianz and Siemens, the tradition-steeped football club announced its participation in the eFootball.Pro league.
So the question is: Why could e-sports as a marketing instrument be interesting for your company?
E-Sports – From Niche to Global Business
E-sports has turned into a business worth billions. The figures speak for themselves. The turnover of this market is expected to rise to about 1.1 billion US dollars in the current year. Sponsorship money accounts for 42 per cent, broadcasting rights for 23 per cent and advertising for 17 per cent (Source: Statista).
This data prompts more and more companies to enter these competitions and/or to sponsor teams, players or events – and even to take part in these events themselves. The reasons for using this channel are manifold: Whether it is about increasing the degree of popularity, increasing the turnover or attracting new professionals.
E-Sports Addresses a Younger Target Group
In order to give you an idea of how many people watch e-sports, I brought an overwhelming fact with me: 205 million people watched the world championship final of the strategy game League of Legends (LoL) while »only« 163 million people watched the football world championship final. How can companies reach this audience?
The spectators of an e-sports event are usually young, computer-savvy, mostly well-educated people between 16 and 29 years. They watch online streams or play online games very often and avoid any kind of classic advertisement.
This means that companies should be open to new channels and new advertising formats in order to reach this audience. For example, Mercedes-Benz will – starting from 2020 – no longer be a sponsor of the German national football team for the first time in 40 years, but will be investing in e-sports and the Formula E.
On the other hand, huge live streaming portals and social gamer communities such as Twitch.tv are already among the most popular websites. Accordingly, you can use content and influencer marketing to make your own brand (more) well-known as well as make hipsters, hackers and hustlers aware of the company. But be careful: the approach is more subtle and authentic than on other digital advertising platforms.
20th Century Fox showed how successful such a campaign can be. For the cinema release of »Alien: Convenant«, the film studio commissioned Twitch with a campaign which was to thrill a young target group for the prequel of the cult film series. As opposed to other types of campaigns in which the streamer directly mentions the product or the company, there was an invasion of aliens through dynamic live content during the usual live streams on this occasion.
E-Sports – First Use Cases Are Spreading
Back to e-sports and the associated potential for the own business. More and more companies want to benefit from this upcoming market and participate in different ways: Adidas equips the French gaming team Vitality with jerseys for tournaments, the Deutsche Telekom AG, a German telecommunications company, sponsors one of the most successful e-sports teams in the world, SK Gaming. Furthermore, DHL incorporated one of their delivery drones into the game Dota 2 to supply players with equipment.
Sports clubs are also getting started in this new field of sports – not only to generate (more) turnover, but also to open up new markets and segments as the examples of Bayern Munich, PSG or the Golden State Warriors show.
Even though all these use cases pursue different approaches, they have one common goal: appealing to and attracting the hard-to-reach nerd segment. As the figures show, e-sports is on the rise and its potential is far from being exhausted. Now it is up to the companies to find their own niche and to shine and win in this digital business field.
Our 5 Reading Tips Of The Week
Sportschau Thema: Das Milliardengeschäft des eSports [Sportschau]
Warum Adidas mit Team Vitality auf Kollaborationen im E-Sport setzt [Fashionunited]
eSports Boom: These Global Players Are Sponsors and Partners [ISPO]
eSport: So funktioniert das Ecosystem [Sponsors]