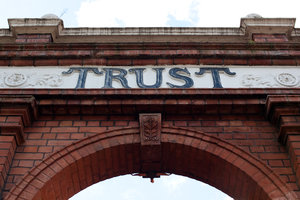 Who'd have thought? According to a study from bevh, trust still plays a central role in the selection of a webshop. Additionally, customers want to know when their package will arrive. If the order also reaches the customer on the delivery date provided, they are more than satisfied. Apart from this, further results of the study relate to the various purchasing behaviours of both sexes, as well as the way returns are taken for granted.

Trust is good; but punctual delivery is good too
The trust the customer has in a shop is basically based on delivery time and date reliability. But the provision of information on product availability is very important for over 75 percent of the 1039 people asked in the bevh study. 85 percent indicated that the shops successfully fulfilled this requirement and correctly displayed the availability. Delivery time is also of high import for the potential customers. 57 percent want delivery within the next 2-3 days. Same-day delivery is important for only 7 percent, which once again proves that the German market is not ready for this.
(Chapter 2: Delivery time and date reliability. When it comes to delivery time, nearly all customers expect delivery of the ordered goods within 2-3 days.)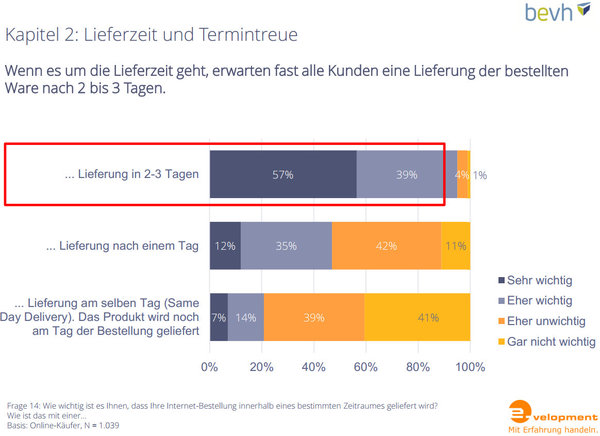 (Delivery in 2-3 days, delivery after one day, same-day delivery. Colours indicate level of important for those asked, with dark blue being very important and yellow being not at all important.)
Availability, delivery within 2-3 days and delivery reliability – the holy trinity when it comes to the trust of future customers. The study also shows that most shops have learnt something in these areas. More than two thirds of customers were happy with the delivery times and "almost all" couldn't complain about compliance with delivery times.
Men plan, women decide intuitively
Female commerce is not just an empty word – this should be clear to everyone after this year's K5. Above all, the differences can be seen in the use of price comparison portals. While 69 percent of male customers inform themselves via these portals, only 59 percent of female customers used them as a source of information. Instead, two thirds of the female customers wanted the product to be available immediately, while immediate availability was important for only 55 percent of men. These are just some of the differences between the sexes. For a thorough look at this, we recommend the article about Gender Commerce by Webmagazin.
Returning is taken for granted
Since the 13th of June 2014, traders are allowed to decide whether or not they charge for returns. 59 percent of online shoppers would avoid making a purchase if extra costs would come with a return. Many customers take the possibility of free returns for granted. Clothing and shoes are returned more often. 71 percent of those asked had once returned clothing. The EU guidelines for returns have had few escalating consequences up to now. According to the bevh study, customers would have an allergic reaction to chargeable returns. Online shops have also noticed this
(Chapter 3: Shipping and Returns. For more than half the customers, chargeable returns in a shop would lead them to no longer order there)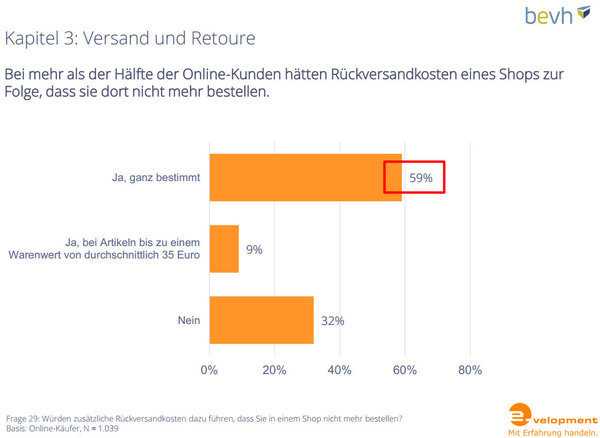 (Question 29: Would extra return costs lead you to no longer order in a shop? Answers: Yes, definitely, yes if the articles have an average value of 35 Euros, no.)
The study will be officially presented at the Etailment Summit 2014. But it can already be downloaded in advance on the bevh homepage.