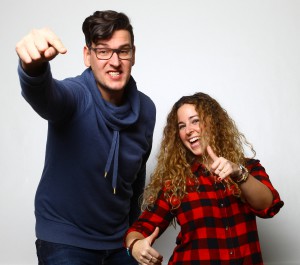 Hi, I'm Oliver Kling. I haven't introduced myself yet and want to catch up on this now.
For 21 days now I've been calling the dotSource marketing team my new professional home. I am here to x-ray the colourful and speedy world of digital commerce in all its facets on handelskraft.de and handelskraft.com together with my colleague Sara. We know that we're following in big footsteps, but we are brave enough to face this challenge.

Before I joined dotSource, I had been working at Intershop – the pioneers of digital commerce – for three years. As a member of the PR department I was responsible for internal corporate communications. It was also there that I came into contact with the digitalisation of business models and processes. Before that I had been studying sociology in Jena, and graduated as Master of Arts. Even if this didn't provide me with a taxi license I was driving a big, yellow Mercedes. Part-time, as a backup driver for DHL. My conclusion: the way between an online shop's warehouse and order recipient the Christmas business, getting more intense each year, is much less bright than the powerpoint slides of all those conversion rate consultants suggest.
Don't worry! I'm neither refusing progress nor do I fear that machines and the algorithms of internet companies are inevitably going to lead us into digital slavery soon. However, it would be somehow embarrassing for me if I was proved wrong in the latter. 😉
I'm passionate for the connection of the digital and the analogue world! During my studies I've already dealt with new, digital forms of collaboration. I'm fascinated to see that many of those barely one decade old visions have nowadays become commonplace or even completely out of date. The speed of these changes is tremendous and this arouses my curiosity every single day. I don't want to miss my Netflix and Spotify accounts these days. Just as my MacBook and my Fender guitar to play music. And maybe one day in the near future VR glasses, an all access pass for Google cars, and a 3D printer might be among them as well.
Today's trends are tomorrow's normality. I'm happy to introduce them to you on Handelskraft from now on.