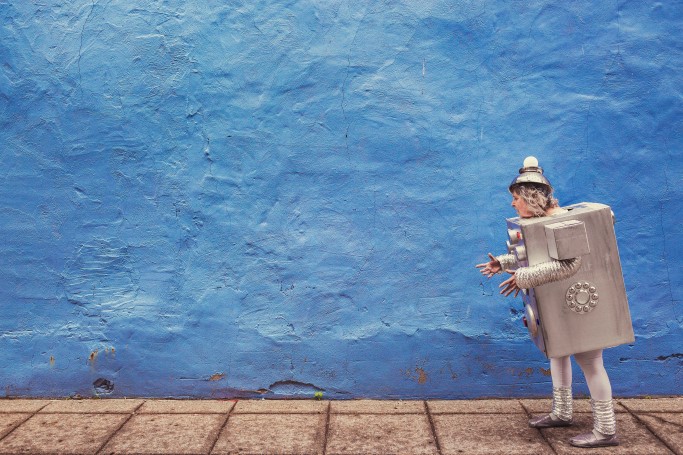 The term artificial intelligence, also known as AI, has been gaining momentum in the last 12 months. Many knowledgeable voices remind us every day of its potential (and dangers) to change the world in our private and public lives as we know it. Gartner predicted the key tech trends for 2017 earlier this year, and at that time, AI combined with machine learning was named one of the most vital technologies of the year.
Since then, many solutions have come to the market that enable companies to implement potential applications for customer satisfaction and effective organisational processes such as: autonomous vehicles, robots, virtual assistants, smart consultants, personalised offerings, predictive analytics and maintenance, and much more.
It seems like AI is ready for business, but are businesses ready for AI?
AI hasn't been accepted by companies just yet
With these technologies, machines don't just learn, but also adapt to their environment – they become intelligent! Humans and machines can communicate efficiently and effectively, but that's where the high expectations for artificial intelligence lie. But how far are companies from reaching this level of efficiency?
According to the McKinsey study "Artificial Intelligence: The next digital frontier?" tech giants like Google and Facebook invested somewhere between 20 billion and 30 billion dollars in AI. 90 percent of the investment was focus on R&D as well as deployment, while the remainder was used for AI acquisitions.
In addition, McKinsey has found that adopting this technology outside the tech industry is still in an early or experimental phase. In fact, only 20 percent of surveyed decision makers already use AI technology and many companies are still unsure about use cases or ROI.
The industries in which AI is slowly establishing itself are high tech, automotive, and financial services. Why? Because they are strong digital "early adopters". This is one of the key features to get the most out of this technology. This means that companies should no longer delay their digital transformation.
A good example of this is Netflix: Using algorithms, the company can offer its customers a personalised movie and series selection.
AI has great potential for marketing
AI and machine learning, as enabling technologies, could improve user experiences and help marketers and distributors create a targeted and personalised campaign, as well as offer individualised offerings and content. That sounds exciting, but are there any marketers who have implemented AI solutions?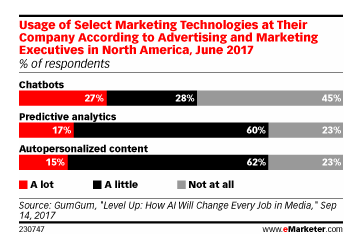 According to a study by GumGum, 61 percent of American marketers have a general understanding of its potential applications. However, only 3 percent see themselves as experts in this area.
The study also shows that chatbots have the highest acceptance level. However, predictive analytics and auto-personalised content are used more often than chatbots.
The reason for this might be that many companies believe technology needs to evolve before companies and marketers can leverage the benefits of using AI. For example, this is the case with virtual assistants or chatbots, with whom the communication is not yet as fluent and fast as we would like it to be.
Our 5 Reading Tips of the Week
Deutsche haben kein Vertrauen in Künstliche Intelligenz [IT Business]
Top Marketers Are Hot on AI; Here's What the Rest of Us Can Learn from Them [The Huffington Post]
Künstliche Intelligenz als Geschäftsmodell: Wie Unternehmen sie einsetzen können [t3n]
Künstliche Intelligenz für die Bankenwelt [Computerwoche]
The Amazing Ways Burberry Is Using Artificial Intelligence And Big Data To Drive Success Forbes]