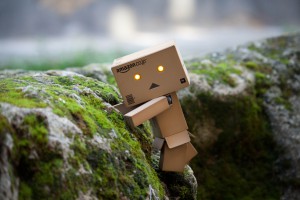 Amazon sends packages, lots of packages: especially during the Christmas period, the online traders' shipping capacity is not nearly sufficient to deliver all the parcels on time. That's why an extra 80,000 seasonal workers pack and load. But the company Kiva, purchased in 2012, also gets to it with 15,000 robots. A video, which has now been released, provides a glimpse of Amazon's 8th generation shipping house in Tracy California.

Shipping optimisation thanks to Kiva
In 2012, Amazon purchased the robot manufacturer Kiva for 775 million US dollarsr. The aim was an optimisation of the shipping process. The robots localise ordered products and bring them to the pack stations, which however, are still run manually. Even the Robo-Stows are from Kiva: these giant robot arms work with modern visualisation systems and help with putting the wares away. This video offers a sneak peek into the 8th generation Amazon shipping houses.
The Digital Transformation as an ongoing process
The modern shipping house shows that even big players like Amazon can't do without digital transformation. The company may already have the biggest steps in digital transformation behind them, but digitalisation is an ongoing process no company can avoid in the long term. Despite increasing automatization, Amazon's shipping houses do not seem to be completely infallible yet: In Great Britain a student was sent wares in the value of 4,500 Euro. However, the shipping company knows how to help themselves and used this accident as positive PR action.
Learn more in our new white paper: "Digital Transformation: Challenges for Marketing, Sales and IT."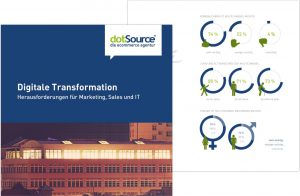 In our white paper "Digital Transformation" we provide insights into the change processes in trade and how that the way to a digital world no longer has to be a long one. Digitalisation does not only include consumers, but increasingly traders, who have to adjust to smartphone functions in the purchasing process for instance.