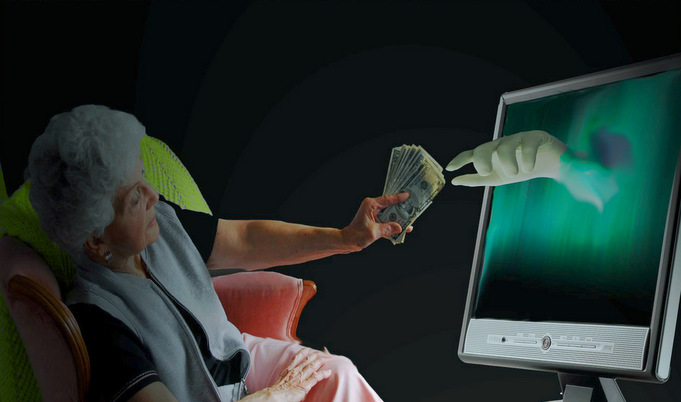 The Mobile Payments & Fraud Survey 2015 uncovered something: investigations of fraud in m-commerce are neglected. Especially in today's Mobilegeddon, traders should not just commit themselves to optimising their mobile internet presence, but also be aware of, and fight, growing fraudulent activity. But the survey paints a different picture: it focuses on the implementation of payment methods.
Mobile Payments & Fraud Survey provides deeper insights
The third edition of the Mobile Payments & Fraud Survey clearly shows just how much of a battle traders and other players in e/m-commerce have with defrauders. Among the 1500 companies surveyed between November 2015 and January 2015, 51.3 percent are distributors, from which 50.1 percent have an annual turn over of more than 50 million US dollars. A wide range of traders are represented: from grocery retailers through to online shops for jewelry, flowers, or cosmetics.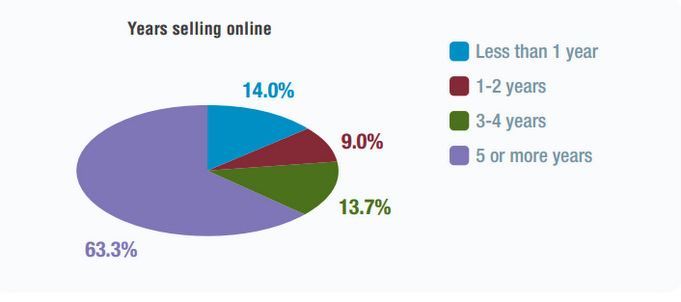 Even though a large proportion of companies surveyed have already been active in e-commerce for more than 5 years, they do not all support an mobile sales channel by any means. 20.5 percent of them plan to implement mobile support this year, and 10.8 percent still have no such plans.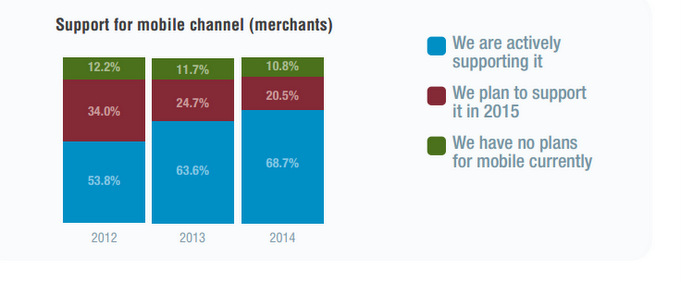 By the way, 43.3 percent of the traders surveyed cannot see if customers make a purchase via computer, tablet, or smartphone. But how are you supposed to find out the success rate of your mobile support?
Is prevention enough?
While the costs caused by fraud in m-commerce are rises, according to the True Cost of Fraud mCommerce study, apparently companies see things differently. 61 percent are generally insecure, 21 percent believe that fraudulent activity has remained constant in comparison with the past few years, and 13.2 percent actually think that there is more fraud in the area of mobile.
According to the survey, the "fear" of fraud in m-commerce has actually lessened compared with last year, which represents the core problem.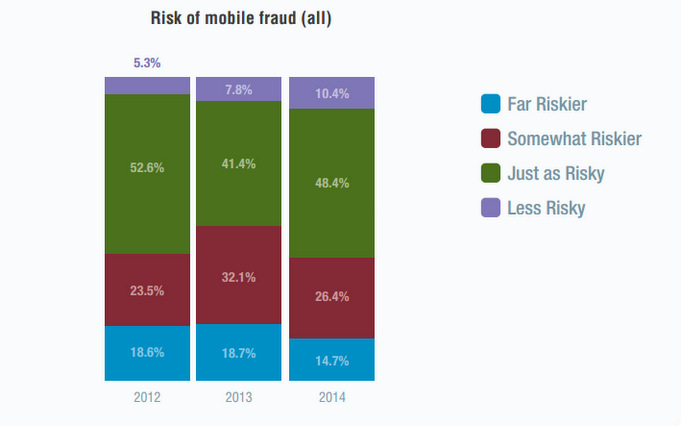 Traders also wrote that they see ID authentication, the determination of the device ID, and secure mobile payment methods as best supporting prevention. But the implementation leaves a lot to be desired. The companies, and here we're referring to the traders in particular, currently focus on the complexity of payment methods.
Mobile Wallet > All
The Mobile Payments & Fraud Survey 2015 also reaches this conclusion: while the sensibility for fraud in m-commerce is decreasing, the (planned) integration of diverse payment systems, like Apple Pay (accepted by approx. 32 percent), Google Wallet (accepted by approx. 32 percent) or PayPal (accepted by approx. 54 percent).
Uncertainty in the fight against fraud, a lack of relevance when raising awareness, and a strong focus on new payment methods – these are the reasons why the doors are open for defrauders in m-commerce. Traders should pursue a holistic mobile strategy which does not only focus on the optimal implementation of a mobile online shop, but also reduces all possible security risks to a minimum.
Mobilegeddon on the 21st of April 2015
Google is once again messing around with their algorithms and now also rates websites according to their mobile functionality In our "Success in Mobile Commerce"-Whitepaper, we show how traders can get their online shop up to date for mobile devices. The white paper can be down loaded here free of charge.